Easy Hanging Flower Chandelier
Today I am sharing this lovely and whimsical DIY Hanging Flower Chandelier.  Not only is this arrangement beautiful, but it is so simple to put together and is the perfect decoration for a new baby's room or bridal shower!
Supplies needed to make this project:
FloraCraft® Make It: Fun® Foam: 12″ Wreath
Various Silk Flowers (I found these floral mats at Michael's and they are already trimmed and ready to use.)
Scissors
Fishing Line
Low-Temp Glue Gun and Glue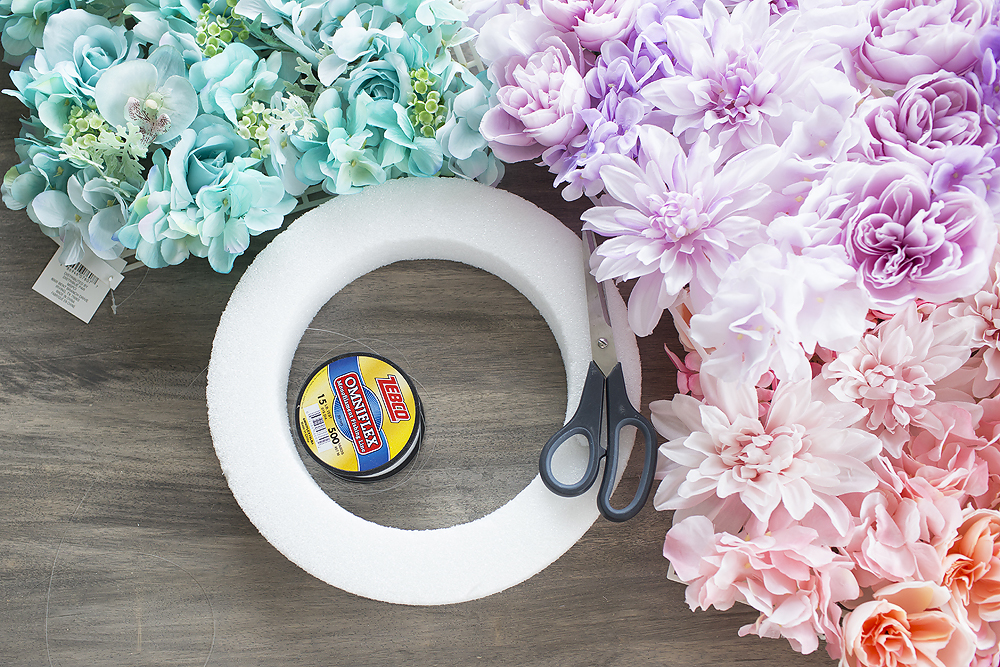 Instructions:
You'll start by trimming 6 lengths of fishing line around 40″ each. These lengths can vary depending on how far you want your flowers to hang. (These will be tied around the wreath form and the excess will hang down.) Start tying the fishing line around the wreath form with about 2-3″ in between each section. Make sure to keep the fishing line tied on the same side of the wreath so the excess line will hang down in the same direction.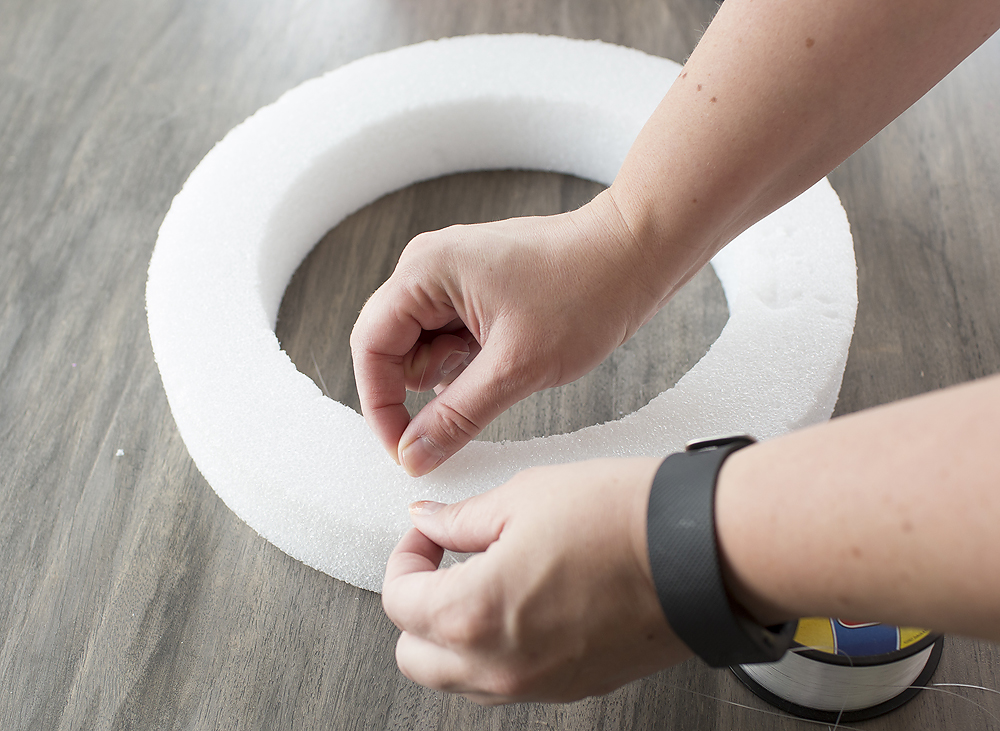 Now you'll start attaching your silk flowers to the foam wreath. If you have floral stems, simply trim them down to about 2″ stems. For a secure hold, apply a light amount of low-temp glue to the floral stem before inserting into the foam.
Attach flowers to the foam in alternating colors to give the chandelier some variety. You could make yours with all the same color too if you want…I think that would be pretty!  Work them around the fishing line so that it will be able to hang properly from the wreath.
Continue around the base and then move to the side of the wreath form filling in all the areas that will remain exposed. (I attached flowers up the side to the top but left the top of the foam empty since it isn't visible.)
When you're foam is covered with flowers, you'll use glue to attach flowers to the fishing line that will hang down. Randomly place various flowers down the lines to make it look light and airy.  You can also tie them to the line for extra hold.
To hang the chandelier, tie a few lengths of fishing line around the wreath base and hang from a ceiling hook.
https://blog.makeitfuncrafts.com/wp-content/uploads/2017/05/DIY-Floral-Mobile-copy.jpg
1497
1000
Marie
http://blog.makeitfuncrafts.com/wp-content/uploads/2016/04/Make_It_Fun_Blog-1.jpg
Marie
2017-06-15 09:00:33
2017-06-12 16:55:45
Easy Hanging Flower Chandelier