DIY Awards Season Trophy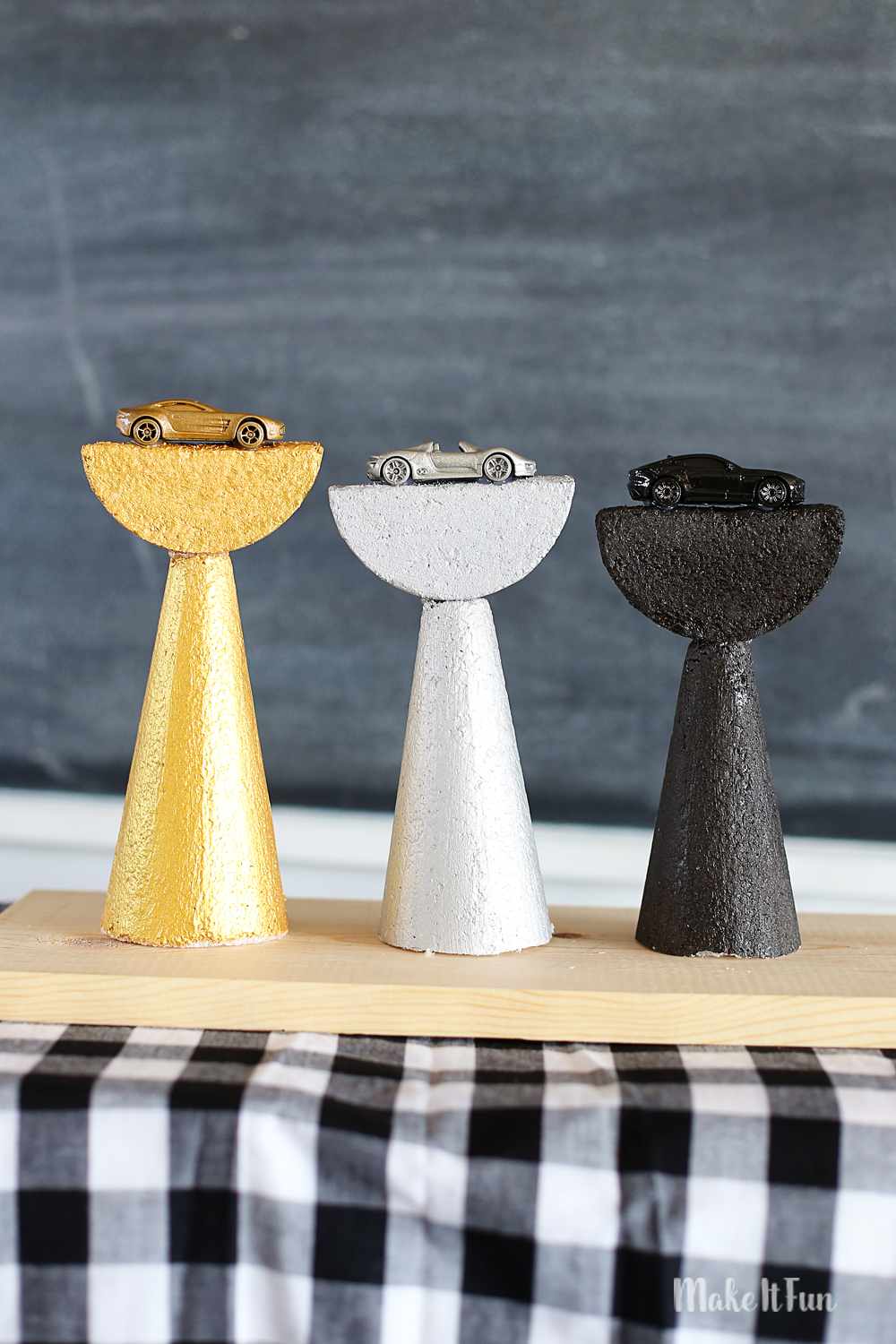 It's awards season!!  Did you catch the Grammy's last week?  If you're running your own fun singing competition, backyard race or school event , you might be in need of some trophies.  Today I'll show you how to easily make your own!
Supplies needed to make this project:
FloraCraft Make It: Fun® Foam Cone (any desired size)
FloraCraft Make It: Fun® Foam Disc (any desired size)
FloraCraft® Smooth Finish® Paintable Coating
Serrated Knife
Metallic Acrylic Paint
Low-Temp Glue Fun & Glue
Trophy Topper (I used toy cars, but you could use anything!)
Metallic Spray Paint
Paint Brush
Instructions:
First I cut the foam discs in half.
Then I coated the discs and cones with Smooth Finish.  I love Smooth Finish!  You can use a spatula to apply it – I like to use my fingers and just rub it in.  It fills in the foam for a more smooth finish.
After the smooth finish is dry, you can sand off any rough areas.
Then you're ready to paint it!  I just used acrylic metallic craft paint with a foam craft paint brush.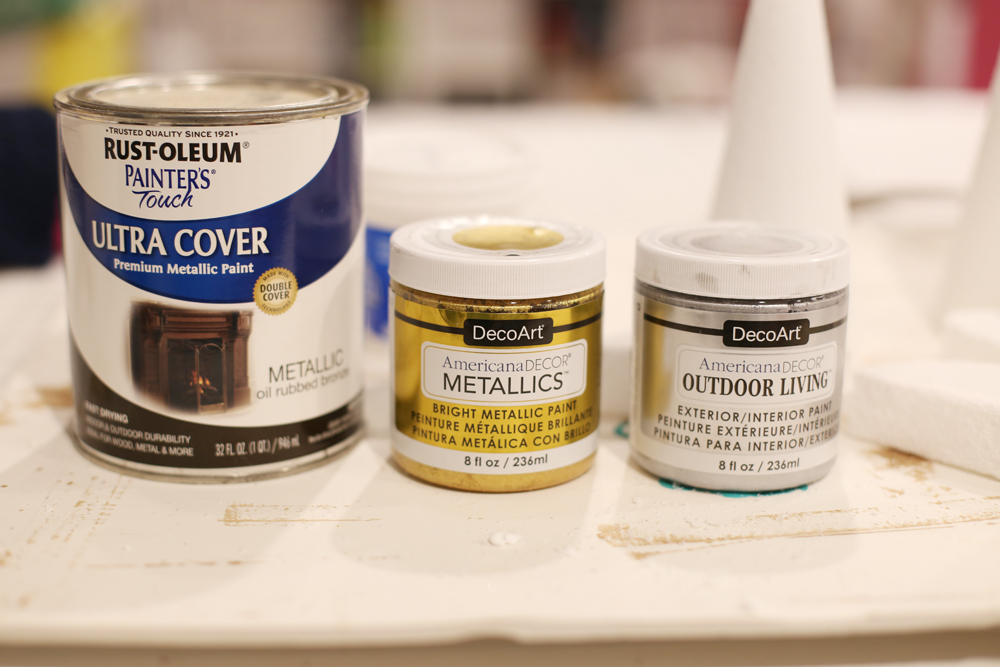 While that is drying, if you would like to add a topper to your trophy, go ahead and spray paint that to match.
Once dry, you can attach the half disc to the cone with glue.  You can also add a toothpick in between the foam pieces for extra stability.
I wanted several trophies, for a 1st, 2nd, and 3rd place, and as such wanted them at various heights.  I used a serrated knife to cut the bottom of the 2nd place cone a little, and then the 3rd place cone a little more.  You can go back in a touch up the paint (or better yet, cut them down before you apply smooth finish and paint).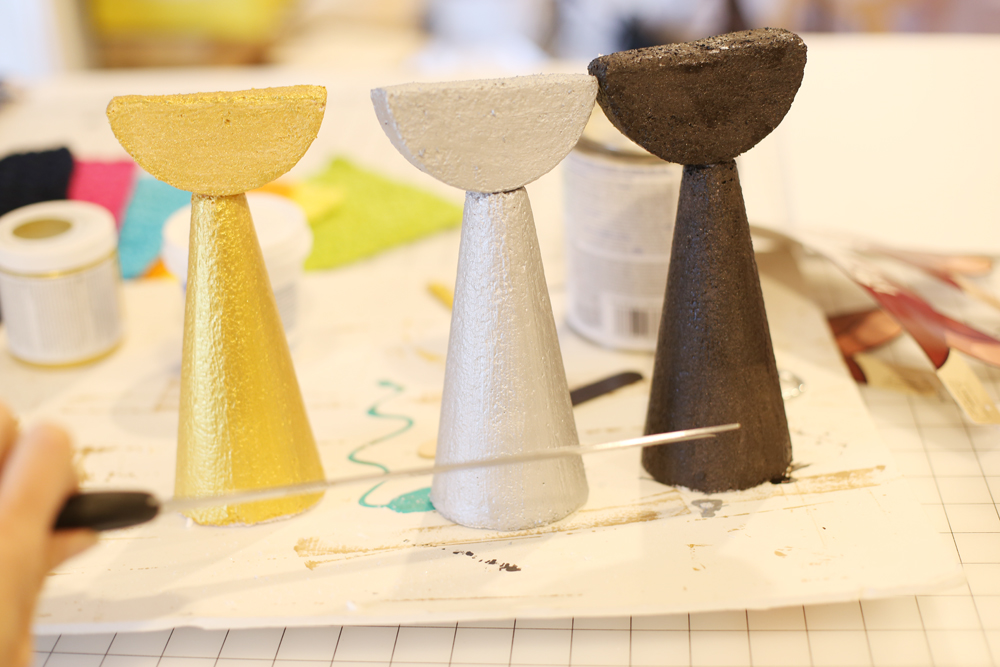 And now they vary in height, perfect.
And lastly, I simply used low-temp glue to attach the car toppers to the trophies, and voila, finished!
Super simple and I love how they turned out!
Who doesn't love a little friendly competition?  What will you make your trophies for?
https://blog.makeitfuncrafts.com/wp-content/uploads/2017/02/make-your-own-trophy-diy-MIF.jpg
667
1000
Mandy
http://blog.makeitfuncrafts.com/wp-content/uploads/2016/04/Make_It_Fun_Blog-1.jpg
Mandy
2017-02-21 09:00:48
2017-02-15 11:25:54
DIY Awards Season Trophy